PAT Testing in Durham City and Local Area
Why PAT Test?
Avoid fires, shock and burns - Regular testing can prevent this.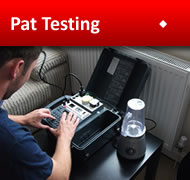 Electricity can kill! Each year about 1000 accidents at work involving electric shock or burns are reported to the Health and Safety Executive. About 30 of these are fatal. Faulty electrical appliances and leads are the main cause of accidental fires in commercial buildings, representing over a quarter of all such fires. Regular PAT testing prevents this.
Pat Testing is a Legal Requirement - The Electricity at Work Regulations requires that employers maintain their "electrical systems" at work to prevent any danger to anyone. This is a legal requirement.
Legislation - The legislation of specific relevance to electrical maintenance is the Health & Safety at Work Act 1974, the Management of Health & Safety at Work Regulations 1999, the Electricity at Work Regulations 1989, the Workplace (Health, Safety and Welfare) Regulations 1992 and the Provision and Use of Work Equipment Regulations 1998.
The Health & Safety at Work Act 1974 puts the duty of care upon both the employer and the employee to ensure the safety of all persons using the work premises. This includes the self employed.
At A B Electrical Appliance Testing my aim is to offer an efficient and cost effective solution for all of my clients PAT testing needs. I offer a fully comprehensive service for any size customer large or small, domestic or commercial, at very competitive prices. I carry out Portable Appliance Testing (PAT Testing) in accordance with the IEE Code of Practice for In-service Inspection and Testing of Electrical Equipment. This ensures that your electrical appliances are tested and certified to comply with current UK electrical safety regulations. ?? I am a fully qualified and well experienced electrician and work in domestic & commercial environments at scheduled times to suit my customers needs At A B Electricals Appliance Testing, I understand that in a busy environment it is not always convenient to carry out testing within working hours, this is why I offer any-time scheduled service. My anytime electrical services are available to all customers, just tell me when the most convenient time and date is and I'll be there! My prices are some of the most, if not the most competitive rates throughout Durham and the surrounding areas. I operate a no-call-out-charge policy over 365 days a year for local customers in and around Durham who need my services.
Don"t let things get this bad have them tested.
The Socket Calculator has been brought to you by the Electrical Safety Council. For more safety information visit www.esc.co.uk
Make sure your appliances are safe! Make sure they are TESTED!
Please call me today on 07510 092323 or make an enquiry online
Who Will Need PAT Testing Services ?

If you own or run a business, however small, it's almost certain that you're personally responsible for making sure that the electrical equipment used in that business is safe.
What Does PAT Testing Involve?
When I arrive, I will ask you if you are aware of any electrical faults on the appliances prior to testing. Before the testing starts,and then will carry out a visual inspection for:
Damaged wiring
Damaged or faulty plug sockets
Damage to the appliances
Checks for overheating, burn marks
Ensure that the appliance turns on/off correctly
Excessive wear
Once the visual inspection has been completed, the electrical test is carried out. This test includes:
Insulation testing
Resistance testing
and finally a functionally test
On completion of the test a label will be stuck to the appliance with the date of testing and when the next test is due. Commercial customers should always have some sort of register and a schedule as to when your appliances next need testing, if you would like help creating a register or would like reminders when your appliances are due for testing I will be more than happy to help.
Televisions, Computers, Monitors & Speakers
Printers, Shredders, Scanners etc
Electrical Heaters & Lighting etc
Plug Sockets & Extension Leads etc
Telephones, Routers & Fax Machines etc
Kettles, Microwaves, Cookers etc
Washing Machines, Dishwashers etc
All Electrical Appliances
Very Competitive Rates
Experienced, Reliable & Friendly Engineer
Durham Based Business
Free Fuse Replacements
That means all of the equipment - not just business tools like computers and photocopiers, but also things like kettles and vacuum cleaners and it means every type of business, not just offices, shops and factories. For example, guest houses, care homes, hairdressers, play groups and even churches are covered by the legislation, and almost all use electrical appliances of some kind.
Fortunately, for portable appliances - generally anything that plugs into a mains socket - there's a convenient and inexpensive solution. This is portable appliance testing, which is often called PAT testing.
Carried out at regular intervals in line with the recommendations of the Institute of Electrical Engineers, PAT testing not only helps businesses to meet their legal obligations, it also helps them to ensure that all of your portable appliances are in good working order.
Your local pat testing contractor, A.B. Electricals, offers a complete PAT testing service. Testing takes only a short time and the work is usually carried out at your own premises, so the disruption to your business is negligible.
If you need my service for PAT TESTING in Durham or even if you only think you may need it, contact A.B. Electricals on 0191 378 9524 or 0191 5977405 for expert advice and a competitive quotation. Remember that PAT testing is a legal requirement and the modest cost is very little to pay for peace of mind!

Please click here to make an enquiry or call me on 07510 092323 today.
I Can Help With Fixed Appliance Testing?

A.B. Electricals your local pat tester is now offering businesses in Durham dh1 and dh7 areas appliance testing, which is a fast, convenient and cost effective way of meeting their obligations for regular testing of portable electrical appliances.
PAT testing doesn't have to be inconvenient or expensive. A.B. Electricals your local pat tester is now offering a complete pat testing service that can be tailored to meet your exact requirements. Testing is carried out at your own premises so your work won't be interrupted.
After completing the tests, A.B. Electricals will label all of your equipment to show when it had been tested, and when re-testing is due. In addition certificates with test results will be issued for every item tested. I can also test and inspect your fixed appliances and issue electrical condition reports on that distribution circuit.
If any of the items fail a tests, A B Electricals will advise whether the best option is to replace or repair. If you need any other electrical work done, A.B. Electricals will provide professional advice on your faulty electrical appliances or quote for any of your electrical projects.
I Can Remove The Worry for Your Appliance Testing
My work complies fully with the guidelines issued by the Institution of Electrical Engineers and after testing, all of your portable appliances will clearly show the tests have been done,by attaching a pass label to each item tested. I carry out the testing at your convenience, so disruption to your business is reduced to a minimum.
Why take a chance? The cost of staying legal is small, it does not need to cost a fortune, in some cases it costs as little as 55p an item, I can also test your fixed appliances, and in addition solve any other electrical problem you might have.
To find out more about my PAT Testing service or any of my other services, please give me a call on 07510 092323 or make an online enquiry.
I look forward to hearing from you soon.